Meet The Millionaires And Billionaires Suddenly Buying Tons Of Land In Africa
Published: 30 Jun 2011
Business Insider | 30 June 2011
By Courtney Comstock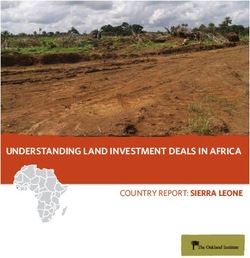 "Understanding Land Investment Deals in Africa" the new publications of The Oakland Institute (here, Sierra Leone case study)
Oakland Institute just completed the most thorough investigative report on who's buying land in Africa we've seen yet: "Hedge Funds Grabbing Land in Africa," as BBC called it.
As commodities prices rise and inflation picks up, the OI made the report public, they say, because the number of investors buying up land in Africa concerns them.
For obvious reasons, there isn't much out there about who's buying what and how much in Africa. But what OI has discovered is a small number of investors paying sometimes nothing for large plots of land in some African countries.
The lease deals are arranged between seemingly corrupt African leaders, reportedly without disclosing the details to the members of the communities that will be displaced because of the land development, and investors such as hedge fund managers.
The end result -- beating villagers, digging up their cemeteries, and taking over land that villagers have lived on for centuries -- looks a lot like a less cruel version of what history tells us colonizing Americans did when they ousted the Indians, according to this one report anyway.
Bruce Rastetter and his various companies are accused of breaking promises to hire locals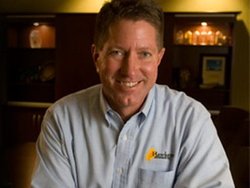 Bruce Rastetter the CEO of Pharos AG. Photo: Business Insider
Who's buying:
Bruce Rastetter (CEO of Pharos Ag, co-founder of AgriSol Energy, CEO of Summit Farms, and a donor to the Iowa State University), the Iowa-based Summit Group and Global Agriculture Fund of the Pharos Financial Group, in partnership with AgriSol Energy LLC and the College of Agriculture and Life Sciences at Iowa State University, and Serengeti Advisers Limited, a Tanzanian investment and consulting firm led by Iddi Simba (non-executive director and the former Tanzanian Trade and Industry minister) and Bertram Eyakuze (partner and co-founder)
The land they're buying: Three "abandoned refugee camps"– Lugufu in Kigoma province (25,000 ha), Katumba (80,317 ha), and Mishamo (219,800 ha), both in Rukwa province in Tanzania.
The future development: Large-scale crop cultivation, beef, and poultry production, and biofuel production. The Tanzanian government is expected to approve the title of occupancy within 3 months, which will result in the evacuation of the current inhabitants: refugees. Also, the Tanzanian government is expected to create a regulatory framework for the use of genetically modified crops.
The scandal: Some refugees apparently received citizenship in 2010, but were told that their certificates were being withheld until they re-located to other areas of Tanzania. AgriSol claims that it's looking to hire local farm project managers to work on the project, however AgriSol told the Oakland Institute that they were bringing in white South African farm managers.
Leonard Henry Thatcher, David Neiman and other investors acquired land through a secret cooperative behind the backs of locals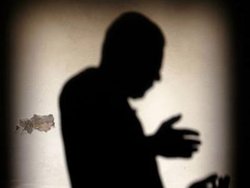 Photo: Business Insider
Who's buying:
Nile Trading and Development (NTD is an affiliate of Kinyeti Development); Mukaya Payam Cooperative; NTD's Chairman, Leonard Henry Thatcher; Howard Eugene Douglas, Kinyeti's Managing Director, a former United States Ambassador at Large and Coordinator for Refugee Affairs and a Director at Orbis Associates; Kinyeti's Secretary, Christopher Weikert Douglas, who in 2008 worked at the United States Consulate in Dusseldorf, Germany and is a Director at Orbis Associates; and NTD's president, David Neiman.
The land they're buying: 600,000 hectares (with a possibility of 400,000 additional hectares) for 75,000 Sudanese Pounds (equivalent to approximately USD 25,000) in South Sudan.
The future development: NTD's plans are unknown, according to the Oakland Institute. But they have the rights to do whatever they want. Two clues: 1. A letter NTD's president, David Neiman, wrote to the governor of the Central Equatoria State says that he intends to develop the land's timber resources. 2. Neimann entered into a "contractual alliance" with Tony Paris of Paris Broadcasting Cable 7 in June 2008 for algal agrofuel production in South Sudan.
The scandal: The company that leased the land to NTD is described as an influential group of natives who leased the land out behind the backs of the entire community by Sudan's Agency for Independent Media (AIM). AIM also says "In reality, the cooperative does not exist on the ground... [Some communities are in favor of the deal but] what is common among all of them is that they are not all well informed about the advantages and disadvantages of the deal."
Jean Claude Gandur's company reportedly promised that the community's rice-growing land wouldn't be used, then it dug large deep channels to drain them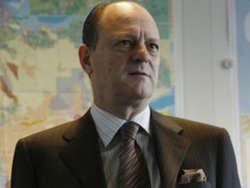 Jean Claude Gandur, Chairman of Addax Bioennergy. Photo: Business Insider
Who's buying:
Addax Bioenergy and its Chairman, billionaire Jean Claude Gandur
The land they're buying: 20,000 hectares of sugarcane plantations in Sierra Leone.
The future development: Sugarcane farming for ethanol production for export to Europe
The scandal: To convince local communities to accept the project, the company promised community members that their loland rice-growing areas would not be used. Addaz has reneged on their pledges. The land has been dried out, large and deep channels were dug to drain them, and Addax is cultivating the lower lying swamp land previously used for rice production. Addax also promised land development in the form of schools, health facilities, a community center, and water wells. But to date, none of those promises have been fulfilled.